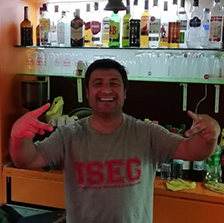 Esteves Bar
A mandatory stop during your Bairro Alto nights!
Every international student that is in the ESN community knows that Esteves Bar is more than just a simple place to get a beer... it's the star of the night.
Here you can meet other international students, chill with ESNers and most of all meet Nuno, with whom you'll have a wonderful experience if you and your friends ask for the Erasmus Pack.
Adress: R. do Diário de Notícias 136, 1200-211 Lisboa 
Opening Hours:
Monday to Thursday: 18:00 - 02:00
Friday to Saturday: 18:00 - 03:00
Discounts
Erasmus Pack (0.50cl beer + Erasmus shot) for 1.85€
Small Erasmus Pack (33cl. beer + Special shot) for 1.75€
Smaller Erasmus Pack (20cl. beer + Special shot) for 1.60€
As you know these last few years have been hard for all of us and especially for small businesses like Nuno's. Because of this, we decided to help him and make people understand that they can be part of the Esteves Bar Team!
So get your T-shirt for only 10€ and be part of the Erasmus Pack experience!

Paypal: francisconspereira@gmail.com
MBWay: 916337709
IBAN: PT50 0018 0003 3729 9443 0202 5

If you have any questions, feel free to contact Chico (916337709) or António (915166447)