WHICH 
TRADITIONAL DISHES
SHOULD YOU TRY, AND WHY?
In Portugal we have a lot of beautiful things for you to see, amazing weather to enjoy, wonderful beaches to catch some waves, but above all of these, we have food to cry for more! And yes, we can tell you that the portuguese food is the best there is! We don't only show our love to you through our beautiful country, but as well through food - and for many people food is the language of love, which we are pros at! 
So, now that we have your attention, we'll tell you which traditional dishes you should try and why!
FEIJOADA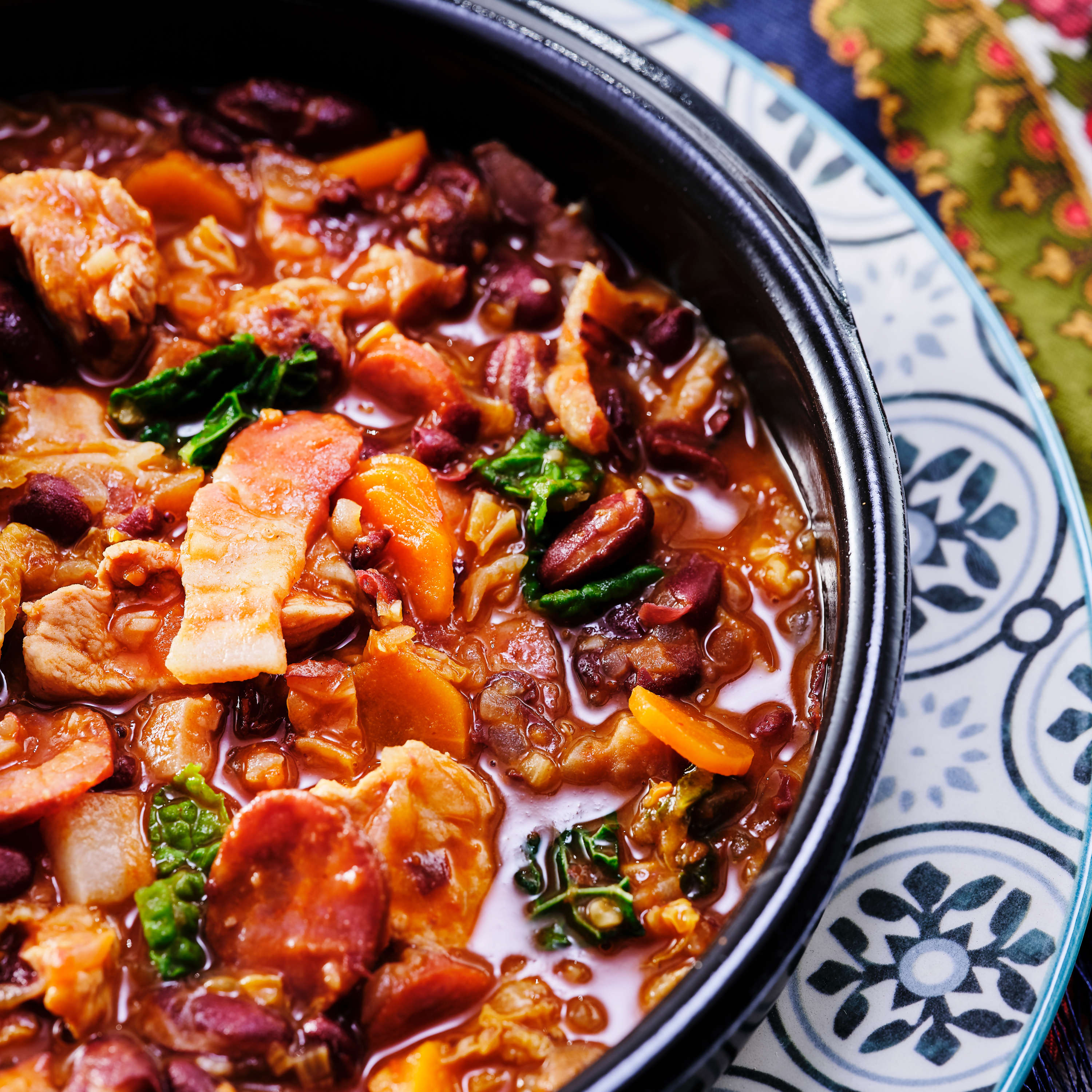 Feijoada, what a weird name right? But we promise the taste is so good! 
Since it is so good, we couldn't have only one of it, but it was born in Trás-os-Montes (north of Portugal) and then went to all different places and also reached Brasil. Various zones of Portugal decided to make it their own, but its base is beans, meat and vegetables. Fill your plate with this delicious dish and you'll be full at the end of it… maybe, even at the end of the day!
But let's go through parts. Like we said, it was born in Trás-os-Montes and there it's made with red beans, tomatoes, carrots or cabbage, the meat is from pig or cow and it can have, as an extra, chorizo, black pudding or flour - yes, it is as delicious as it sounds!
In the Minho and coast Douro it is made in the same way but with white beans. In Brasil is completely different, it's made with black beans and different types of meat, from pork and cow, and then with rice, crumbs, braised cabbage and sliced orange. This, also delicious, kind of Feijoada is called Feijoada à Brasileira. 
 
COZIDO À PORTUGUESA
Another marvelous dish is Cozido à Portuguesa, make sure you stomach is empty to take this one! It is a delicacy made up of a myriad of vegetables, meats and cooked sausages.The vegetables can be cooked, among them can be beans, potatoes, carrots, turnips, cabbages and rice. When it comes to the meat, you can have chicken, but it's not very popular, pork spare ribs, streaky pork, pork ear, pork sparks and beef from different parts. In sausages, meat chorizo, farinheira, black pudding and blood chorizo are typical.
All of these ingredients make up a very strong dish, ideal for cold winter weather. We advise you to take a long walk after this one! Best restaurants to eat this big and marvelous dish, Os Courenses and Adega da Tia Matilde.

CARNE DE PORCO À ALENTEJANA
Pay attention to this dish because I think you're gonna really like it. It's called Carne de Porco à Alentejana, well you may think the origin of this dish came from Alentejo, but in reality it came from Algarve. It's associated with Alentejo, but in reality it was only for algarvios (people from Algarve) to say that the meat of pork was from Alentejo, since their pigs were raised in a healthier way.

And how is this dish prepared? Well, it has pork meat (of course), clams, paprika, seasoning blond, wine and garlic. The meat is fried and after they mix the clams. You can also eat it with fried potatoes and add lemon. 
This is a really easy dish to find anywhere in the country, but you can go to Cocheira Alentejana and Restaurante Cervejaria Lisboa Portugal. 
BACALHAU COM NATAS
And last but not least, we have our famous codfish! You know that Portugal loves dishes with codfish and we couldn't let this text go by without, at least, one dish of it!
We present to you, codfish with cream! It's even better than the name!
It's super easy to make, you will need of course, codfish, diced french fries and cream! Bonus: it can be seasoned with nutmeg and white pepper.
You can eat in any restaurant, but here are some just for you: Sol Dourado and Delfina - Cantina Portuguesa.
Portugal has a lot to offer to you and food is one of those things, you won't get disappointed, at all. Enjoy one of these beautiful dishes and then go for a walk in our beautiful Lisboa, because you will be full!!